Cardo PACKTALK Motorcycle Intercom Review
We've often been asked if bike-to-bike communication systems actually work. The underlying question may be "are motorcycle 'comms' systems worthwhile?" We believe they work and they are worthwhile. And we recognize there are a number of good systems on the market which creates confusion for anyone considering one. We'll spend a few minutes talking about motorcycle comm systems generally and then specifically look at the Cardo PACKTALK system.
Three features that define motorcycle communication systems.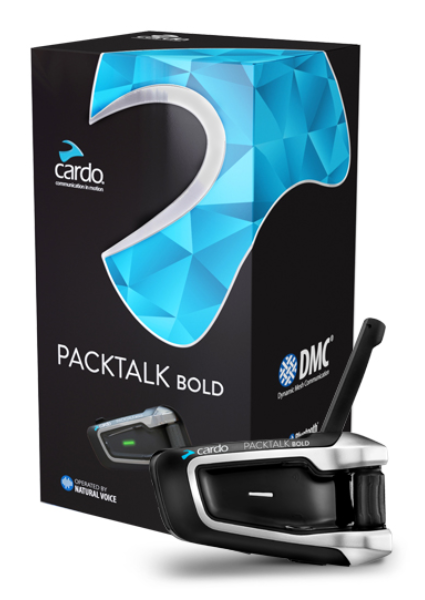 To begin, a motorcycle communication system performs three major tasks. First and most importantly, it enables riders to communicate with each other and with a pillion rider. In the old days communication systems used walkie-talkie radios connected to a hub device that in turn connected to a headset with a push-to-talk button to manually open and close the voice channel. These units, from companies like StarCom1 and AutoCom, were effective and had good range depending on the walkie-talkie. Importantly walkie-talkie communications don't rely on line-of-sight to connect which is useful when riders are separated by a blind corner. On the other hand, these systems were hard to install, meant packing a walkie-talkie, picking a common channel, and occasionally sharing the channel with RVs and other motorists. Today, most communications systems use Bluetooth technology to connect over a channel that is joined only by authorized members of a group.
Modern Bluetooth-based systems have limited point-to-point range, but manufacturers have devised ingenious methods to daisy chain communication from device to device such that the end-to-end distance across which a group of riders can talk is extended. So if any two bikes are able to talk at a distance of up to 1 mile, and three bikes are riding together, then the first and last bike can be two miles apart and still talk because the bike in the middle acts as a rely. The chain can continue on for as many riders as the system allows in a group.
The second feature found in most motorcycle communication systems is the ability to pipe in music when voice communications aren't active. Most systems today allow you to play music from your smartphone over a Bluetooth connection. As an alternative, popular motorcycle GPS devices, for example the Garmin Zumo, can store and play music over a Bluetooth connection. The real benefit to this built-in music feature is that the system will pause or lower the music volume to a background level when you begin a voice conversation.
And the third important motorcycle communication system feature is the ability to receive and make phone calls through a paired smartphone completely hands-free. These systems will let you set a number of speed dial numbers for people you contact frequently, as well as use voice to search for a number in your smartphone contacts.
advertisement
Cardo PACKTALK includes everything for an easy installation.
So let's take a look at the Cardo PACKTALK BOLD. And by the way, we're fully capitalizing "PACKTALK" because that's the way Cardo spells it. PACKTALK BOLD offers the three important features expected in any motorcycle communication system and has the best user interface implementations that we've experienced. Everything you need comes in the box including great sounding JBL in-helmet speakers, a button mic and boom mic for full face and three-quarter or modular helmets, and workable instructions.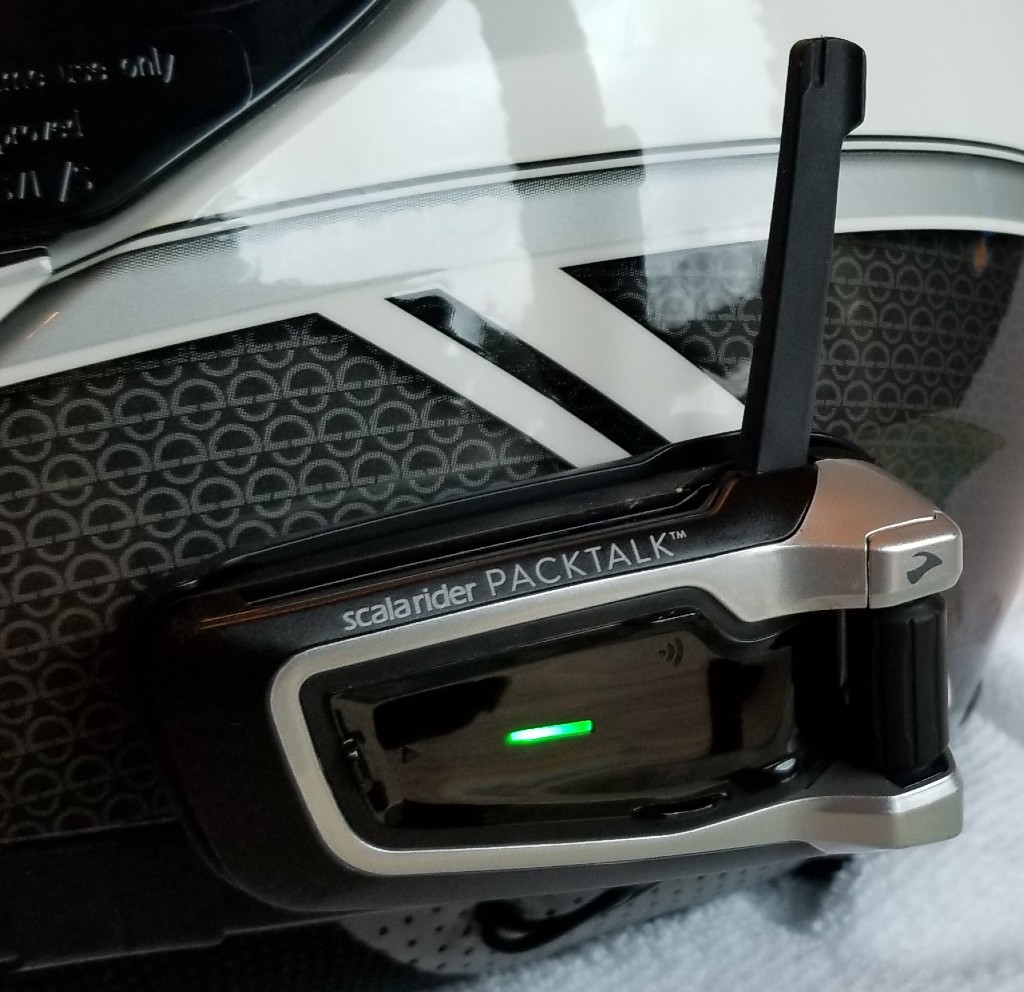 Installation is easy and straightforward because the entire system fits in your helmet. Unlike the old StarCom days, there's no on-bike wiring at all. The PACKTALK can either clip on between the helmet shell and neck roll, or you can opt to glue it on with the included adhesive pad. For our money, the adhesive pad option is best. The in-helmet speakers fit nicely in the ear recess areas without causing pressure (this is of course a helmet-specific thing). Cardo includes spacer pads if the recessed area is too deep. The mics attach with adhesive Velcro strips. All the wiring is easily routed under the liner and through the neck roll to the PACKTALK unit itself.
Instructions for pairing the Cardo with your smartphone and GPS are straightforward. We'll get to pairing with other riders in a minute.
With so many features to control, the User Interface takes some getting used to.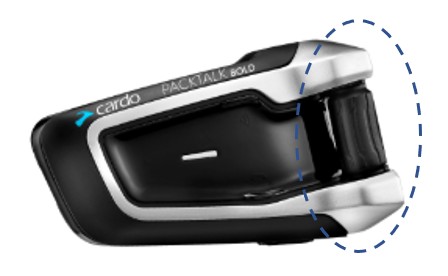 Working the PACKTALK requires some mental and physical acuity. The buttons are small but with practice are easy to find and operate. The roller wheel takes the most practice. This clever piece of engineering controls the volume which makes sense, but it also accepts gestures like a fast back and forth roll to mute the device, or a press and roll to scan FM radio stations. Other buttons perform actions like skipping music tracks, making or answering phone calls and so on.
You can expect to spend some time learning how to use the controls, but eventually you will recognize patterns and see the logic in Cardo's design.
PACKTALK has the important features and more.
Group communication is PACKTALK's lighthouse feature. The instructions for selecting and setting group communication modes and pairing with other riders are somewhat confusing. You will probably take more than one attempt, we certainly did. But once set-up we found the system reliably connects group members, even after months of inactivity, right up until they chose to unpair from the group.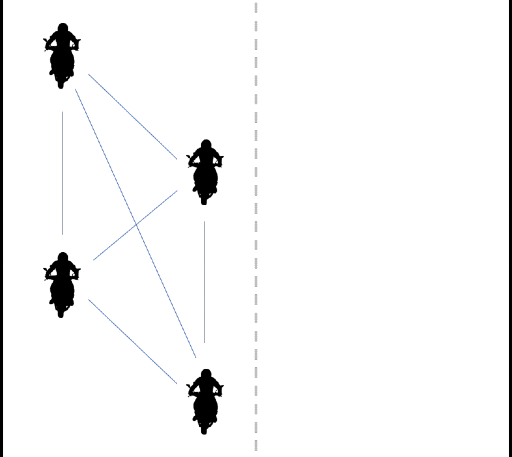 PACKTALK delivers the best quality bike-to-bike communication when there is line of sight between riders. We found that even when riders are separated by as much as a mile with up to 5 miles from lead to tail the PACKTALK delivers clear conversation for the whole group.
Communicating is as easy as talking in a room. There's no push-to-talk required and all voices simultaneously flow to all riders. If you are enjoying some music when a voice comes on, your system will lower the volume to a background level while the voice conversation is active and then return the volume to normal when it detects silence.
Music playback starts with your paired smartphone, GPS, or other Bluetooth enabled device. Music player controls are all there and once you get used to them they're pretty easy to manage. We found the built-in FM radio to be especially useful when riding through populated areas just to get a feel for the local vibe.
Phone calls are just as easy, that is after you get used to the controls.
The PACKTALK includes other features that you will want to explore. For example, the ability to connect non-Cardo communication systems and we haven't even talked about the rider-to-rider intercom system which is top notch.
advertisement
We could complain about a few things.
We really like the Cardo PACKTALK, but there are a few issues that merit attention. First, the clip-on method to attach the unit does not leave it flush with the helmet. The adhesive strip provides a better fit and we recommend that option. Even then, depending on your helmet the device may cause some extra wind noise when you turn your head left or right at higher speeds.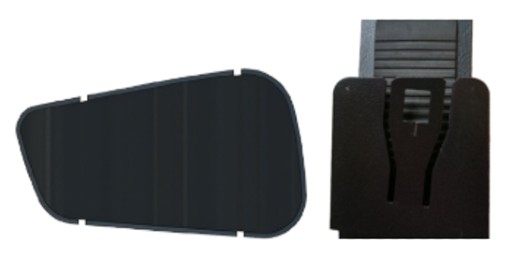 The wheel control takes a lot of getting used to. Jogging it and pressing it just right takes practice. We like the dial on the Sena better.
The multiple communication modes between DMC and non-DMC seem unnecessarily confusing. Cardo should offer some better documentation that explains when and why to use these modes.
And lastly, connecting a non-Cardo device works but not very well. The non-Cardo rider does not have the same conversational features. And we found that keeping the non-Cardo device connected with the group was unreliable. That could be due to a problem with the non-Cardo device. We don't know.
Selecting the Cardo PACKTALK is a group decision you will be happy with.
Wrapping it up, we highly recommend the Cardo PACKTALK. We've tried multiple generations and brands of bike-to-bike and rider-to-rider communication systems. The must-have features are solid and the few shortcomings don't get in the way.
Technology marches on and it's truly amazing how much Cardo has baked into this product. Aside from increasing communication range, we're not sure how they can make it better. Nevertheless, Cardo will continue to innovate to improve the product, but for now, PACKTALK is the system to beat.